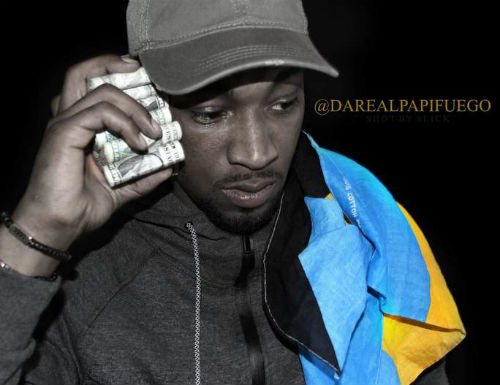 LOS ANGELES, CA – Young Handsome DA Problem, also known as Papi Fuego, is an independent hip-hop artist from Mount Vernon, New York. Growing up in the unforgettable era of 90's hip-hop in New York, the 25 year old sparked his career as a rap artist at the ripe age of thirteen. In his younger years, he split his time between the small city of Mount Vernon in the Lincoln Ave area and non-stop hustle of the Bronx urban community and culture of the uptown area. In 2003, he moved his life upstate to Orange County, NY.

Once he began placing a serious focus on his hip-hop artistry in 2008, he began freestyling and battle rapping, while recording here and there. Influential artists such as Jay Z and Jadakiss, along with his family, motivated and inspired him in his career. By 2013, he had a greater focus as he started recording and making music on his own. He started his own hip-hop super group called "Tribe Of Young Bosses". Keeping the successful energy going, in the same year he dropped his first major project, "Purple Tapes Project", which was extremely well received in surrounding hip-hop communities. After the release of the project, Young Handsome DA Problem's work got the attention of numerous DJ's as it continued to gain momentum through a high volume of exposure. By 2016, Tribe of Young Bosses disbanded, and Young Handsome DA Problem began focusing on his craft and growing immensely as a solo artist. He has opened up for numerous artists such as Fred The Godson, Remy Ma & Papoose, Black Rob, Mr. Cheeks and the Lost Boyz, Rah Digga, Hell Rell, JR Writer and even hip- hop legend Spoony G.

Young Handsome DA Problem currently resides in Middletown, NY with his daughter and major motivator, Jhanel. As a lot of his family looks up to him, he is constantly striving to reach longevity in his career, while continuing to perfect his craft and image as an artist. As he looks to the future, Young Handsome DA Problem has a desire for his music and company, Boss Up Enterprises, to grow globally and sign other artists and/or groups. Through his company's slogan, "BOSS: Built on Self Success", he continues to do just that.

Through Boss Up Enterprises, Young Handsome DA Problem is soon to release his next biggest project: "Boss Up". To stay up to date with his current and upcoming projects, please make sure to visit the following:
 
Website: www.darealpapifuego.com
Facebook Page: darealpapifuego
Twitter Page: @darealpapifuego
Instagram: @darealpapifuego
Youtube: TYBPapiFuego