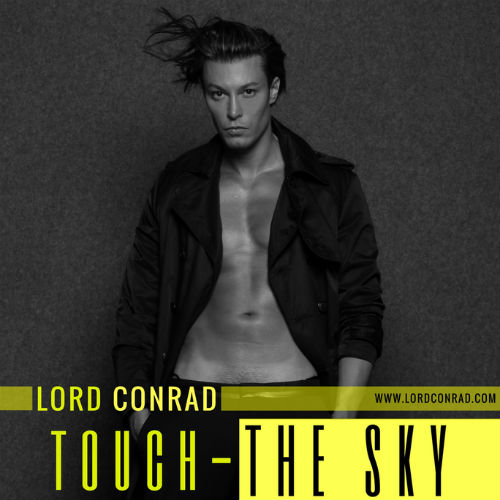 MILAN, ITALY – Lord Conrad is a hot new musician out of Italy whose artistic philosophy reflects his own sweet, altruistic and sensitive character. He believes people should focus on spreading positive messages and be themselves by following whatever their passion is.

"I love helping and listening to others," he said. "I think that every single person has the potential to achieve great things. No matter what your social, sexual or religious affiliation is – or any other status – we're all gonna' make it. Just be yourself and follow your passion and push it to the limit."

Lord Conrad's new single, "Touch – The Sky," is a tribute to that artistic philosophy. He said the song comes from his honesty and the admiration he has for people with high character and who put in hard work. He said the single is a never-done-before "sonorous experiment," a mix between trance, dance and EDM electronic music that features heavy beats with melodic stabs of electronic piano while showcasing his vocal skills.

"Of course, the lyrics capture my sweet, eccentric, positive, lavish lifestyle perfectly," he said. "On enthusiastic listener stated: 'This is a masterpiece of musical art.' And 'Lord Conrad's new music is a perfect combination of a two-time speed new generation lifestyle.'"

Prior to releasing this single, Lord Conrad has been modeling, dancing and doing public relations events at clubs throughout Milan – the world fashion capital – for the past 10 years. It was through those experiences that he said he developed a passion for music – to the point that he wanted to show the world his feelings in a way of sending positive messages to the world. He said that he chose music because it's a good way to express oneself while encouraging others who listen to the music to embrace the positive messages he's sending out.

"I had this burning feeling inside of me to show my feelings and get messages out to the world," he said. "I do have a lavish lifestyle, and my mixed personality is both sweet and eccentric. That's why I chose the name Lord Conrad, because it sounds like a powerful name for a powerful charismatic personality."

A music video for the single "Touch – The Sky" will be shot in Rome and should be available for release later this month on Lord Conrad's YouTube channel. The concept for the video is a short-film featuring he and his girlfriend in a plot that sees her kidnapped by a gang of "sexy girls," who he has to fight to get her back.

"There will be car chases, guns, action, sexy outfits, muscle cars of the 1970s and 80s and much more," he said. "yes, you'll see a man fighting a gang of girls. We'll risk it all in this video by trying to do something original."

To listen to Lord Conrad's music, or to follow him on social media, please visit the following links:
Official Website:  www.lordconrad.com
Blog:  LordConradBlog
Facebook Fan Page: Lordconradnasdaqgod
Facebook: Conrad.Lord1
Instagram: Lordconraditaly
Youtube: LordConrad
Vimeo: LordConrad