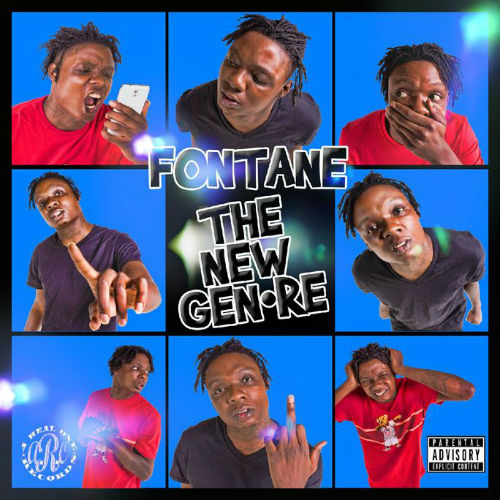 DALLAS, TX – Fontane isn't a musician who's interested in just being another member of the status quo. Though some trends within the hip-hop genre are proven money makers, he's not interested in following on the coattails of other artists. No … his mission is to pave a new trail and introduce a new genre. In fact, that's the title of his new album "The New Genre," which has been getting a lot of attention along the South, Mid West, and up and down the East Coast.
"The cover for this album speaks for itself," Fontane said. "It's all about new and improved things. It's a new swag. It's a new wave and feeling and sound with new music. That's what it's about. It's an album that people can find out more about me and know what I'm about and who I am – find out that me and my sound are different. I'm touching on different stuff, not just based on one little groove."
Fontane has been making music for a long time – since he was a young kid, in fact. He recorded his first song at the age of 8. Both of his parents and many extended family members have been involved with music, so he's been surrounded by the industry his entire life. His older brother, T-Balla – a well-known rapper – started his own record label called A Real One Records, and when Fontane decided to pursue a professional music career about two years ago he turned to his older brother. Together they've been able to create some amazing music – music that he said appeals to the masses and is diverse, from up-beat club songs to songs that appeal to women to songs with lyrical content of street life and urban culture.
"I'm a different artist," he said. "When you hear my music you can't pinpoint it to any other sound out there. It's my own sound, and it's a diverse sound. I'll rap and do harmonies. I'll do R&B rap and hard-core rap and I can even do a little country flavor. I'm just different and I do different stuff that other artists wouldn't do and wouldn't feel comfortable doing. I'm taking risks with my music and doing what I feel instead of copying the wave and trying to join everybody else."
 Two songs have been making noise the past 6 months. The first is "Pay to Play," which Fontane describes as a "club domination song". It is getting heavy spins and club rotations all over the Internet and has been exploding on all social media platforms. It's a song that he said is about "kickin' it and hanging out."
"It's a song saying you have to pay to play. In this world of greed, you get nothing if you don't have the funds to back your play," he said. "Nothing is free. A Real One Records has been paying to play since we jumped in the game. We ain't asking for any hand outs. We're taking what's ours. No dollar sign has a price on my or our future as a label."
The second single is "You The Type," and it's a song that he said is more about his life and the struggles he grew up with – such as watching both parents go to prison and some betrayals he experienced with close friends and extended family.
Fontane said he expects to drop more mixtapes and singles over the coming months, with the intention of dropping one mixtape every month for the rest of 2017 and releasing the upcoming album by beginning of 2018.
To listen to Fontane's music, or to follow him on social media, please visit the following links:
Youtube: You The Type
Instagram: @fontanearo/
Twitter: @fontanearo
Facebook: fontanearo