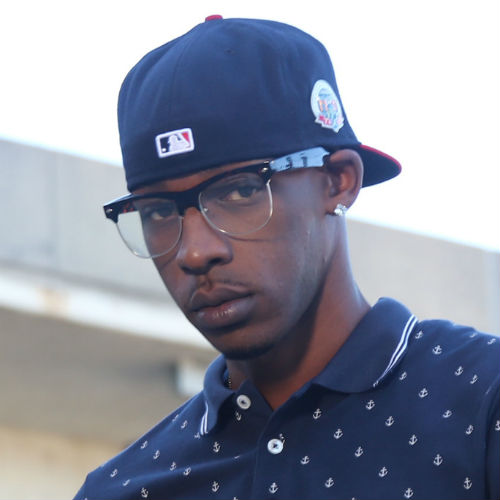 ATLANTA, GA – Brandon Miller has a special relationship with his mother. She is, quite frankly, his single greatest inspiration. So when she found out last year that the breast cancer she had conquered 20 years ago was back, Brandon was devastated. He did what he'd done for so many years when facing difficult times – he turned to music.

Out of that pain and struggle has come some of Brandon's greatest music. Operating under the stage name 2 Cool Bran, he's set to release his sophomore album "Heartbreak Kid 2" – a 13-song project that explores the trials and tribulations of his life. Much like his first project introduced the world to his special sound and unique lyrics, "Heartbreak Kid 2" delivers profound and introspective stories told in captivating ways that will make fans want to listen over and over again. And while much of the work is born from the pain of watching his mother suffer, there are other stories laced throughout the album that he said many people will be able to relate to.

"The first time my mom got cancer I was only 3 years old," 2 Cool Bran said. "My dad was physically abusing her and me and my siblings saw that. When they eventually got divorced, it was hard on my mom to take care of us. It was tough going through that situation. When I got older, I lost my best friend when he got gunned down. He was the friend that I was with every single day, so when he died that took a lot out of me and put me in a depressive state. And then a year ago my mom got breast cancer again and we're going through all of that again. All this pain I put into my music, hoping that it will connect with someone."

That music has been connecting with people in big ways. His adept use of the Atlanta trap sound mixed with a new evolution of hip-hop has his city buzzing. Recently the city put up a billboard on Interstate 85 that features 2 Cool Bran – a mark of achievement that he said not only validates his hard work, but lets him know that his music is connecting with even more people than he realizes.

That's quite an achievement for the little kid from the inner city of Atlanta whose friends would always tease him about being "Too Cool."

"But I love that this shows that I'm able to say that the 2 Cool brand is consistent," he said. "That's really the only thing I could ask for with my music: to be consistent with hits and give fans something great to hear. I'm a very internal rapper who can be relatable through common situations that people may go through. I'm bringing somewhat of lyrical music back with good content and substance. My lyrics carry my songs and my substance makes people listen. I'm different than the normal thing going on right now, and it's cool that people notice that."

While there are a handful of singles off the album that 2 Cool is showcasing – such as "I Can" and "Why You Actin' Up?" – it's the single "Harder" that seems to be getting the most attention. It's a song that was produced by his long-time friend and collaborator, Zaytoven – one of the top producers in the game today. It's a single that he said nods to his dedication to his craft and the work and effort he puts into making his career something long-lasting.

"I'm basically speaking on going harder than most of the rappers out here and having better talent than most," he said. "I want people to have a respect for what I'm doing and see that I'm trying to stay consistent. This song shows that I'm working harder than anybody and everybody else out there. It's a pretty up-tempo song that some people have described as a trap soul or a hip-hop soul kind of sound. And there's definitely trap music in my music, but there's also a lot of heart in my music. And you can hear that directly in this song."

As 2 Cool Bran launches this new album, he's also gearing up for a month-long tour along the East Coast throughout September. He'll be performing in venues from New York City to Miami.

To listen to 2 Cool Bran's music, or to find out more about music releases or live performances via his social media accounts, please visit the following links:
Twitter: @2COOLHBK
Instagram: @COOLASSBRAN
SnapChat: TWOCOOLBRAN
Youtube: TWOCOOLBRAN