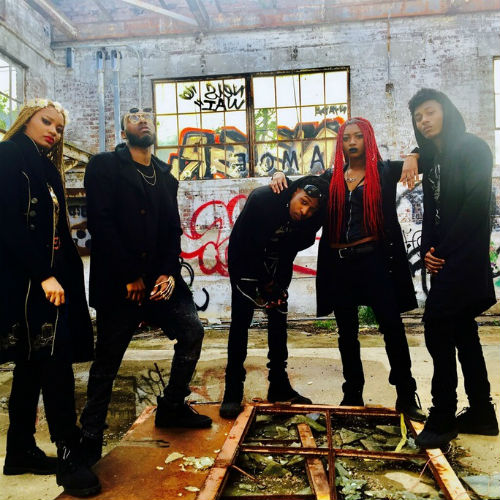 LOS ANGELES, CA – Just when you think you've found your favorite R&B artist, you discover a group that is changing the industry one step, or sibling, at a time. Cue Atlanta-based R&B group The Mob. A performance group comprised of five ultra-talented siblings, Shake, King, Queen, Rome and Kash, The Mob has set out to make a lasting imprint in the music industry with their unique style and synced harmony. Music has always been in this group's blood, which is entirely evident when listening to their music.

When asked how they got their start, the group members discuss how they were initially divided into two separate groups. "We've always actually been the mob," said eldest member Shake. "We were separate groups at first, but both of our groups were missing something. And, that was just each other." As The Mob has utilized their innate melodic and lyrical abilities for the betterment of their group, they've continued to achieve success when they truly put their heads together. Loyalty remains centric within their overall work ethic, which is further reflected in their performances and projects they release.

After making a collective decision to move from Michigan to Atlanta, The Mob remained a cohesive family unit, on and off stage. Specifically on stage, The Mob has opened for major entertainers such as Fat Joe, Dej Loaf, Corey Gunz and Lil Scrappy, in addition to winning major music competitions such as the Atlanta Exposure Open Mic. Their fans cling to the wide variety and versatility that each member brings to the table, which set them apart from most performance groups in the industry.

As mentioned prior, The Mob is bringing the "new wave" with their latest mixtape titled "Watchtower". This mixtape lets listeners inside as it tells the story of their family, as the siblings serve as the protectors for one another. With their unbreakable bond and effortless cohesion, The Mob stays true to their family values as they express themselves musically and artistically.

"With us being such down to earth people, I think we can just relate to the world," said Kash. "I think we can bring music back to what it was, and also lead it to where it's going." And, they continue to do just that, as they climb the charts with their incomparable musical talents. Doing everything out of love, with mutual respect for one another, The Mob continues to shock the world as they are truly unlike any other group that has come and gone in the industry.

"We want people to know that hard work really does pay off," said Kash. "As long as we stick together, we're good.

Listen to their new hot track "Fire", from the "Watchtower" Mixtape, below.

Connect with The Mob on their social media platforms:
Facebook:The Mob
Soundcloud: northsidemob
Instagram: @mob_northside/
Twitter: @Northside_Mob
YouTube: Northside Mob
Datpiff: NS_MOB