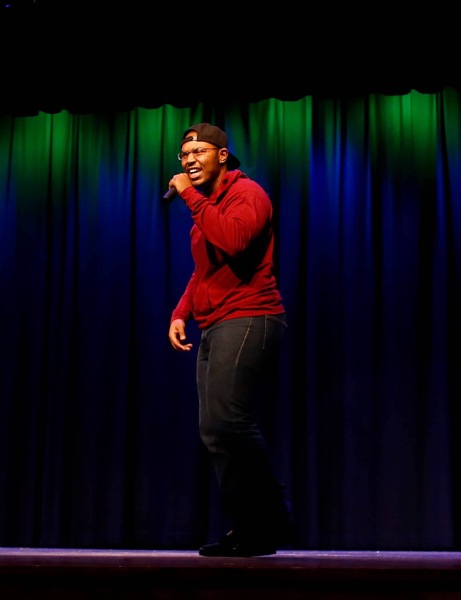 LOS ANGELES, CA – The phrase "music runs through my blood" holds truth for hip-hop artist Jeron Bro. Originally from Kansas City, Missouri, the artist spent the majority of his youth listening to industry legends from Motown, in which he later became a true product of his environment. The musicality and talent that his favorite icons, such as Michael Jackson, Marvin Gaye and Smokey Robinson, possessed inspired the young star. Further channeling this inspiration, Jeron Bro began emulating these artists, which led to him putting pen to paper in his newfound passion of songwriting. And the rest, one can say, is history.
Jeron Bro continued on with his songwriting, which eventually developed into full-blown performances. His captivating stage presence caught the attention of his peers, which led them to vigorously encourage the artist to pursue his musical dreams. "My peers were heavily into rap music," said the artist. "They were always joking around about how similar my style was to Michael Jackson's." Jeron Bro's versatile singing abilities did not go unnoticed, which in turn began morphing into more than just vocals. After being around rap music, the artist dabbled into the genre and once again wowed his friends and family. "They were always saying 'Wow, you can actually rap'," said the hip-hop artist. "After that, I never stopped."
Rap music represents way more than just a genre to this artist. In addition to being a lifestyle, rap is also Jeron Bro's lifesaver quite figuratively and literally. "Rap has helped keep me out of the street life that I have been around," said the rapper. He has dodged many bullets and overcome a plethora of obstacles in life, which makes Jeron Bro's perseverance so admirable. After committing to the rap game, Jeron Bro released his first major studio project titled "Jeron Bro 1.0". The album is more than just a collection of original songs; it delivers a positive message to those who are trying to weave through life's trials and tribulations. "I like to call it a series of anthems for the underdogs," said the rapper. "I'm inspired by everyone around me, and I'm here to make anthems for the underdog giants as I call them."
The album is widely available on digital streaming platforms such as Spotify, and has already been welcomed with rave reviews. As performing was such an early developed and harvested talent for Jeron Bro, the artist continues to share his music with crowds and radio audiences all over the country. "In my performances, I take people on an emotional journey through rap. My style is emotional but lyrical- very melodic and very aggressive," said the rapper.
What's next for Jeron Bro? People can expect a follow-up to Jeron Bro 1.0, in addition to a wave of performances. Fans will definitely want to stay tuned for Jeron Bro 1.5. If it's anything like his first project, it will definitely be an all-around crowd pleaser.
Jeron Bro enjoys connecting with his fans, so make sure to follow him on his social media sites below:
Instagram: www.Instagram.com/JeronBro
Facebook: www.Facebook.com/JeronBro
Twitter: www.Twitter.com/JeronBro
Soundcloud : https://soundcloud.com/jeron-bro/
YouTube: https://www.youtube.com/user/YoungBroSoundz
Website: www.JeronBroMusic.com