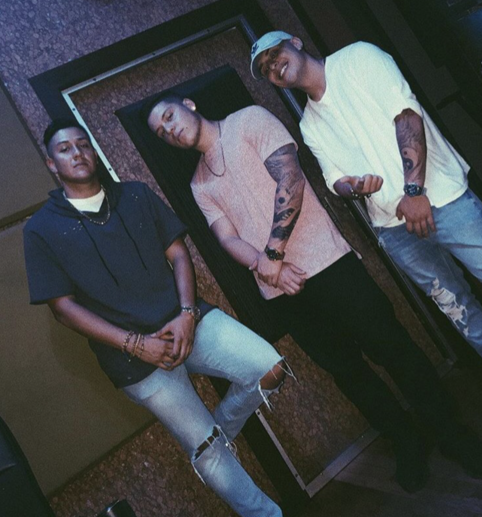 BERGEN COUNTY, NJ – Los Unicos' name says everything you need to know about them. They dare to be different. They are "unique." In fact, the music that comes from the Reggaeton and Latin-pop group out of Bergen County, New Jersey is so unique that it's turning heads not just in the U.S., but internationally, as well.
Born in a region just a stone's throw from New York City, Los Unicos is made up of brothers Andre and Almani, and their best friend Juan "JC" Correa. The brothers are Argentinian/Ecuadorian, while JC is Colombian. They met while playing soccer together for a local semi-pro team. And what started as a fun way to pass the time after a game one day has grown to become a professional music career that is rapidly growing across the globe.
"One day after a soccer game they invited me over to their house," JC said. "They were already having plans for making music, and they had been making music together for a while. On this day they were just writing things down and they showed me one of their verses while we were all sitting at the kitchen table. I told them, 'Pass me a napkin.' And then I wrote a verse right then and there. From that point on we've been writing together. We wrote a song together, liked it, messed around with it and realized we had the potential to do something that we'd always wanted to do. We talked about it and started working from that moment on."
And they've accomplished a lot in a year since then. They've released three singles that have caught the attention of fans along the East Coast and in South America, and they're close to finishing and releasing their first EP.
Their most-recent release is a single called "Vamonos De Viaje," which is available on YouTube and all digital platforms. The group's previous two singles are also available on YouTube and have more than 25,000 views to date. This is in addition to radio play that has grown recently within the past two month, especially in Argentina, Colombia, Mexico and other South American countries.
Andre said the group is hopeful that "Vamonos De Viaje" will be the single that helps break the door wide open for their growing fan-base, and that it will lead to a wider tour and bigger projects going forward.
"It's a song that basically speaks about taking a girl on a ride throughout the world," Andre said. "You follow along with them as they're traveling to different parts of the world. It's an upbeat song with a vibe that's very positive and outgoing. To help promote the song we're going to do a press tour in South America in November. We'll be in Argentina and Paraguay, doing some promotion there."
Andre said the group will also soon release a music video for a new single called "Magia Negra," which is the title track from the new EP that they plan to release around Thanksgiving. The translation of the song is "Black Magic," and Almani said it's a song that really showcases the group's unique sound and style.
"No one has the same beats that we're putting out," Almani said. "Every song and chorus is unique. Where we're from influences our music, and when you put that on a song it makes it completely different. It's three different musical influences. Plus, we listen to everything – every genre you could think of, from heavy metal to Cumbia. And you can hear that in our songs and through the way we express ourselves."
"Our name says it all," JC added. "Los Unicos means 'the unique ones,' and we want to be different. We want to give people and the public something they've never heard before and we want to stand out. A lot of artists today sound similar or will all be in the same lane, and to some extent we don't want to be categorized with one specific genre. We're different from anybody else. We want to embrace that difference and reach out to all ages who can all enjoy our music and everything we put out. That's our ultimate goal – to get to as many parts of the world as we can. We all have that vision and we're all willing to work extremely hard to get to that point."
To listen to Los Unicos' music or to follow them on social media, please visit the following links:
https://www.instagram.com/oficiallosunicos/ 
https://www.instagram.com/andrelosunicos/ 
https://www.instagram.com/almanioficial/ 
https://www.instagram.com/jclosunicos/ 
https://twitter.com/LosUnicosreal
https://soundcloud.com/losunicos3/