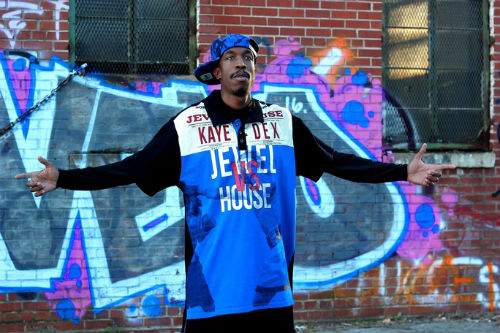 ATLANTA, GA – The road to K.O's career as a professional hip-hop artist started of all places… in a library…
As a child growing up in Flint, Michigan, K.O. was somewhat shy and struggled to present himself well in front of groups of people. Wanting to help push him past those insecurities, his mother encouraged him to participate in an open-mic poetry contest at the local library. She was a lover of literature and going to the library with her children was a fairly regular thing.
"One day we went to the library and she saw this advertisement for an open mic event and she said, 'Since you like rap music I want you to be a part of this," K.O. recalls. "I was iffy about it because it was my first time doing something like that, and I was going to have to do it acapella. But I thought, 'You know what? I'm just gonna try it.' So I wrote a song to a beat, and when I got to the library I did it acapella … and I won second place from that. People really liked it, and I never looked back."
This guy is a successful underground hip hop artist known as K.O. Da Beast. He has moved to Atlanta, where his work as a professional artist has slowly been gaining traction especially at the Royal Peacock where he won first place twice this year. Now 29 years old, he's cultivated a large repertoire of music over the past decade, including his most recent mixtape called "K.O. Krueger Mixtape," titled after his favorite horror movie character, Freddy Krueger. He said it's a project that nods to the music he was making 10 years ago.
"I put some industry beats on the mixtape to show that I still got it," he said. "If I was featured on someone else's song, this is what I'd be able to do. I also wanted to use some original beats to show my diversity."
The main single from the project is a song called "Scared Straight." He said it was inspired by an experience in his life when someone snitched on him and it made him mad. In the midst of that anger he heard the beat that serves as the foundation for the song, and he immediately started freestyling over the beat and letting out his frustrations.
A second single that he's pushing from a different mixtape is called "Uh Oh." He said, "I want people to know I'm coming. I'm delivering a whole new wave of hardcore music whether they like it or not. I'm gonna say want i wanna say. It might make some people mad but IDGAF, I just want my fans and future fans to be able to relate to me. I pride myself on lyrics. If the word play is not there, the track won't count. There's more to it than just a beat. I make 'em hear what I'm sayin'. I look up to people like The Notorious B.I.G. & Eminem. I just want to be next up"
"Ultimately I want people to know that I would just love to be one of the next great ones who can spit and tell stories," K.O. said. "I put stories together from my mind in ways that make you say, 'I see where you're coming from.' I have always wanted to stand out. I guess there are a lot of mumble rappers popping up now, and I don't want to fall into that category. I want to say something and have you understand and know where I'm coming from. My life started off bright, and then it went dark, and I mix that all together. Sometimes it's gloomy, but my songs let people know what it is and I will always tell stories from the dark side and the bright side."
To listen to K.O. Da Beast's music, or to follow him on social media, please visit the following links:
https://www.instagram.com/1kodabeast/
https://twitter.com/K_O_DABEAST
https://m.soundcloud.com/kodabeast
https://www.youtube.com/channel/UC3-rsgD4Xa5M2weWkz2OuDQ
https://open.spotify.com/album/2VhTpxrLPpIFJBddbzUwIv
http://tidal.com/artist/8072712
https://itunes.apple.com/us/album/k-o-kruger-mixtape-ep/id1229880038http://us.napster.com/artist/ko-da-beast
https://www.iheart.com/artist/ko-da-beast-31432252/
https://www.amazon.com/s/ref=nb_sb_noss?url=search-alias%3Ddigital-music&field-keywords=K.o.+da+beast