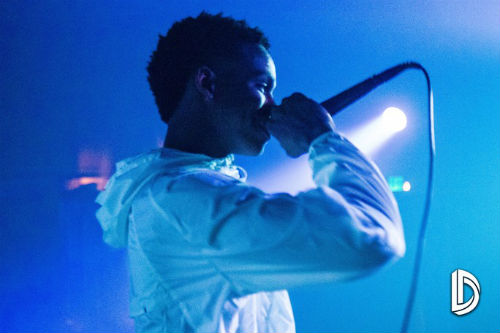 A "don" is often looked to as the leader of the pack, a sort of iconic figure in society. Someone who sets the tone for others to follow… This can be said for rapper DC The Don, as he has made substantial waves in the music industry in such little time. DC The Don has been writing his own music since he was six years old, and has no plans on stopping any time soon. In his younger years, he enjoyed freestyling and writing his own raps, as this form of expression truly excited him. It's hard to believe that he only buckled down and got serious about his career about six months ago, as his natural, raw talent seems as if it's been harvested for many years. Six months later, he has already received millions of hits on his major single, "Everything 1k".
Though music comes natural to the artist, the path to success hasn't always been easily paved for him. The Chino Hills rapper was once a Milwaukee resident, where trouble and temptation were not necessarily few and far between. "I'm from Milwaukee," said DC The Don. "It's not the best city. Living there, it was easy to get in trouble, and my mother was aware of this. So, I moved to Long Beach with my father, and started heavily focusing on my music." Since making this decision, the rapper refocused his energy into something more long lasting and, ultimately, lucrative. Little did DC The Don know, his "big break" was not far behind.
The release of his single, "Everything 1k", has produced mass success for DC The Don, as it has caught the attention of Los Angeles Lakers' Lonzo Ball. After the single was included in the basketball star's commercial, things took off for DC The Don at the blink of an eye. "It's crazy. One day after practice, Lonzo cosigned me on Instagram," said the artist. "Ever since then, the song blew up." What is so unique about the single is how little of time it took for DC The Don to record it. To this day, it's still extremely surreal for the artist, as the single took a whole 10 minutes to record, and was released on Soundcloud the next day. "All of a sudden, I started trending on Twitter. The song that took 10 minutes, and basically no effort, helped me the most as an artist. I didn't think it'd be as big as it is now," said DC The Don. It's safe to say the sky is the limit for this artist.
Currently, DC The Don has placed a huge emphasis on his debut project, "Purple Hearted Lion". The mixtape includes 13 original songs that are an absolute reflection of the rapper's artistry. Ranging from a Caribbean flair to club bangers with a trap vibe, the album has something for every music lover. "The project is me evolving as an artist," said the rapper. "My new stuff is more complex. It's very versatile, you know, and there's just a lot more thought put into it." The project houses another major single, "New Wave", that has the industry buzzing, much like its predecessor. DC The Don assures his fans that this "feel good music" is guaranteed to make anyone smile, because it genuinely can make anyone happy.
DC The Don is an artist to watch out for, as he is just getting started. To that, he plans to completely flood the music industry with his upcoming projects and business endeavors. "Everything is about timing for me. I'm trying to dive more into the business side of things. You have to learn the industry, and that's where my focus is right now," said DC The Don. Fans can also look forward to his upcoming clothing line, "Lucreativity", which encompasses every aspect of who the artist is. Anything this artist puts his hand to truly turns to gold.
"New Wave" is out now, so make sure to give it a listen if you haven't already!
Make sure to follow DC The Don on his social media below:
https://www.instagram.com/dcthedon/
https://twitter.com/WORLDWIDEDAIJ
https://soundcloud.com/dcthedon
https://www.youtube.com/channel/UChlOsnwkarBH-srYGJnh46w