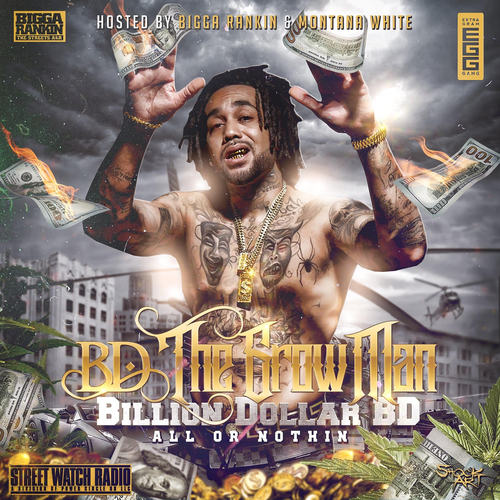 There seems to be a lot of talk within music industry circles about Rapper Billion Dollar BD. The dynamic rhyme slinger is on a mission to become a "Diamond in a rap world permeated with Cubic Zirconia." His brand/lifestyle is a blend between two extremes, Ghetto and Elegance. Moreover, his music is like a movie but through words. Billion Dollar BD is a rapper, a boss, and a business man. He exemplifies the true meaning of the term "Boss Status." As an artist, he is daring, direct and real. His music is like a movie but through words. Billion Dollar BD is flying high above the competition and earning massive respect among his peers.
The West Palm Beach, Fl native is hungry and highly motivated. His hardcore lyrics, powerful stories and masterful delivery make Billion Dollar BD one of the most sort after independent rappers around. This magnetic rapper exudes confidence and swagger. At times brilliant and at times daring, Billion Dollar BD is thoroughly engaging. Some of his influences include Trick Daddy, JT Money, No Limit Records, Cash Money Records, Three 6 Mafia, UGK, Triple J, and Soulja Slim. The buzz worthy trap artist has graced the stage with such Rap superstars as Young Jeezy and he has collaborated with multi-platinum producer Zaytoven.
Equally important, Billion Dollar BD is not just a rapper, he is a winning brand. He is an astute and savvy entrepreneur. He is the Extra Gram Gang chief. He recently sat down for an interview with DJ Smallz where he spoke about his permanent gold teeth. Moreover, his music conveys an element of realness and rawness. His songs are like a musical diary because he has actually lived the life he raps about. Earlier in 2017, Billion Dollar BD released his single "Re-Up" to much fanfare. The visual to the single is bright, colorful and top notch. BD is currently promoting his mixtape entitled "All Or Nothing" hosted by by OG Bigga Rankin and Montana White. Highlights on the project include the songs "BMF," "Fill A Bag," " Power Ft Money Man"and PipeLine."
Follow Billon Dollar BD on Instagram: @billiondollarbd.
Spotify: https://open.spotify.com/album/3K8s0Z1i8gGpoS5UgLgT6T?si=yorv25iO