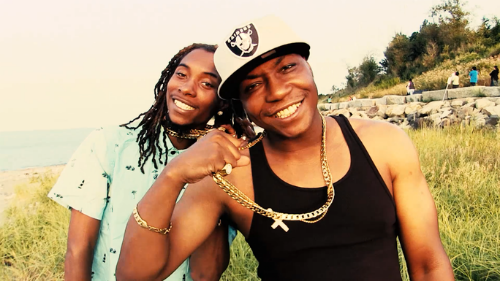 NEW ENGLAND – Sanat Kumara – now known in hip-hop circles simply as SK – first met Tarzan F1gz at the age of 17. The two had a mutual producer who liked music and invited them both over to sample some new sounds. The two started doing music together almost immediately, and they never stopped. The two continue to work together as professional artists and have joined forces to create the new single "Da Wave."
"We just started doing music together and kept going on and on until we got better," SK said. "As we improved, we started to travel and tour. We lived in Atlanta for awhile, and that's where we really put it together. We've been working together professionally for about five years now."
SK said the single "Da Wave" is a song about the people who try to take you out of your "smooth frame of mind" – the people who want to see you rattled. But SK and Tarzan use the song to make the statement that their music and style is here to stay. A music video for the song was also recently released and features the two artists on a boat, with the intention of using water and waves as a double entend
"It's all tied into one thing," SK said. "It just came about one day when Tarzan picked the beat out and we sat in the car and came up with a hook. Then we went to the studio and did it. It came together easy. It's a song with a kind of smooth, soft rap sound with some auto-tune."
SK said that unique sound is one that the duo has mastered after having worked together for so long. He said Tarzan brings Southern swag to his game, while SK brings more of a smooth introspection with witty lyrics. The combination of the two is "kind of like mixing East and South," he said.
"That's how it all came about," SK said. "When we first started doing music together we put those sounds together like that and it just worked. When you put it all together it all kind of comes together naturally."
The two are currently following up the success of their single with some work on a mixtape called "DBMG Mixtape Vol. 1," which they hope to release by Spring 2018.
In the meantime, you can listen to SK and Tarzan's music or following them on social media, by visiting the following links:
https://www.facebook.com/sanatnow
https://www.instagram.com/skdbmg/
https://twitter.com/SanatK
https://www.facebook.com/TarzanFigz/
https://www.instagram.com/figzneszdidit/