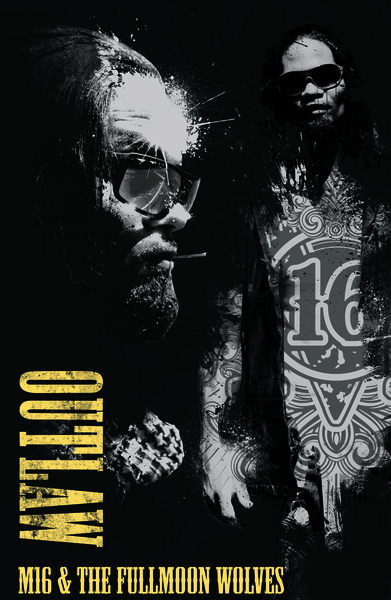 LOS ANGELES, CA – "Reality Is A Dream Desired and Pursued"
This was an important lesson that Matt Grady (M16) learned at age 16 from his mentor Antwoinne McLendon. Prior to that, he'd grown up with a family that was made for music. His mother was a Gospel singer and his father played guitar for bands in Chicago and North Carolina also touring in other locations with various artists in and outside of the states. Matt grew up listening to his dad and wanting to a be professional musician just like him. By age 8 he was learning piano and by middle school he was already perfecting his writing through poetry. The jazz and funk that he learned to love from his father as well as being exposed to classical and rock developed his influence into a love for other genres of music.
"I fell in love with hip hop when i first heard a record by Gang Starr, "Mass Appeal"  And then at age 16 he met the producer and Dj Mike Nice, who taught him the value of hard work and sacrifice in order to realize your dreams. Mike took him to a studio where he felt he would fit in and showed him a whole new world of music that fit his sound and style perfectly. There he met DJ Skaz Digga, Big Daddy Kane and Antwoinne who took interest in Matt almost immediately after hearing him rhyme. He new himself there was something powerful in him before Matt could see and believe in his own talent.
"That's when I started taking my career seriously," Grady said. "I started getting edgy with my word play, but the irony is that when you listen to my music there's a message, and I'm actually saying something. That's what my music is about – staying edgy but making positive and meaningful music without sounding cheesy in a sense. It's almost impossible to do in hip hop today, and a lot of people don't grasp it until they hear it. But I feel like I can convince people within a mean 16 bars, which is another play on the word M16." 
 
Antwoinne and M16 became fast friends, and the former began to push and 
challenge the latter to become a better artist. He taught him how to write lyrics that were a reflection of his own personality, but in a way that connected with others. Eventually Antwoinne would become the mentor, manager, and hype man for M16 and collaborated on creative vision on most of his music. 
The other career changing moment for M16 was recieving media coaching from Donna-Maria Harris as well as hosting community events with her and Christopher "Play" Martin where he was encouraged to continue making music the way he did by all walks of life from DMC of run DMC to Davy DMX of Public Enemy that he had "IT"  even had the chance of doing a show with Davy on the 1's and 2's 
"I don't know the question but I know he's the answer"   -Donna-Maria Harris of TeenFest Foundation. It's those types of collaborations and the nod to the people around him that is the focal point of his most recent single, "Work." M16 describes that single as a song that flips the script on what a lot of aspiring artists consider to be the most important things. 
"I'm not glamorizing cars or money that artists usually glamorize, nothing wrong with it but I wanted to show something different, something real, because thats what the music represents"  he said. "This song is all about looking at my team – my publicist, videographer, manager, stylist, even the radio personality, the DJ, the fan also… everybody involved with making you who you are. This song is about glorifying that and doing what it takes to make it, you get out what you put in."
       
"We Refuse To Be Xd Out"
To listen to M16's music or to follow him on social media, please visit the following links:
https://www.facebook.com/theartistM16/
https://www.instagram.com/theartistm16/
https://twitter.com/theartistm16
https://soundcloud.com/theartistm16