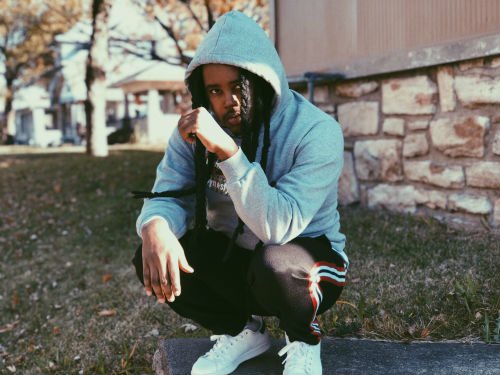 LOS ANGELES, CA – The Midwest has delivered one of the most influential rappers on the scene right now. DWalk is here to tell his story through his raw lyrical abilities, and it's safe to say the fans have been steadily listening. Growing up in a heavily music-influenced home, the artist quickly developed his lyrical passion, which still ignites the fire within him today. Coming from a widely violent city like Kansas City, Missouri, DWalk knew his sound could produce positivity in his community.
DWalk found his inspiration through his family, specifically with his uncle "Lil Zeus" who passed away due to a fatal car crash. "He was pretty big down here in Kansas City. He inspired me to start doing music. From there, I started doing music and I just fell in love with it," said DWalk. Throughout his career, the rapper has stayed true to his roots and his city. It seems the more widely known he becomes, the more he rises up above any hate that could be potentially thrown his way. The overwhelmingly positive feedback he continues to receive from his fans and friends is what helps DWalk stay on top of his game.
Bringing a whole new sound to Kansas City has been a priority for DWalk. Through his newest single "Get a Grip", DWalk accomplishes this through putting his own spin on things. "It's a party song. I wanted to put a cool, melody vibe to it. It's crazy how I came up with the song. I wrote the hook down in the middle of the club, and went straight to the studio to record it. I knew it was going to be a hit for sure," said the rapper. The single has been keeping the streets crazy, and everyone is truly enjoying the flare that DWalk has brought onto the scene.
The work doesn't stop for DWalk, as he is currently gearing up to release his EP. Fans can expect a "more advanced DWalk" through this new EP, which is something the artist is extremely excited about. The more he continues to make strides in his music career, the more he elevates his artistry. DWalk fans will catch a glimpse of his everyday life after the EP is released, closer to the new year.
As DWalk's goal is to provide inspiration for those who need it, he has a message to share: "For anyone who is trying to conquer anything or accomplish any kind of goal, I just want to tell them to not let anyone tell them they can't do it. Anything is possible. I just want everyone to be motivated to work hard, and never give up".
You won't want to miss his new EP! To stay up to date with all things DWalk, follow him on his social media sites below:
https://www.instagram.com/big_dwalk/

https://www.youtube.com/channel/UCtiwJyi_gzwKt3V2T-0ppSQ

https://soundcloud.com/big-dwalk-816

Snapchat: Dwalk816