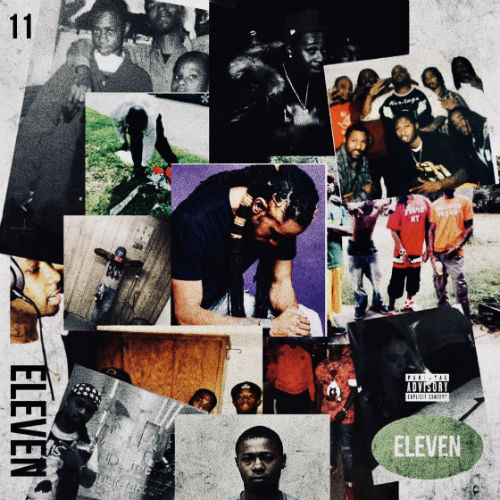 Rap juggernaut Cash Moody is a determined emcee who's ready to take the music world by storm. He is one of the top independent rappers to watch in 2018. His clever lyricism, magnetic delivery, efficient wordplay and irresistible personality has already earned him acclaim among Hip Hop aficionados. He is wise beyond his years and his music reflects his trials, tribulations and triumphs.
Equally important, Cash Moody is currently riding high with his latest project called "Eleven." The dynamic wordsmith goes full throttle on "Eleven." The album is bold and brash and colossal in scope. It's like an action film on wax. Cash Moody delivers thought provoking, mind blowing lyrics that stay true to the code of the streets. It's an eclectic mix of songs. Cash Moody takes the listener on a journey into his world. More importantly, the project is evenly paced with mid tempo and uptempo tracks which gives it a laid back aesthetic vibe.
The album is named "Eleven" due to the fact that Cash Moody would see the number "11" at least ten times for the day. He would constantly see "11" on his clock, his phone, in the streets and even at sporting events. He researched this unique phenomena and discovered that it meant that his guardian angels were trying to communicate with him. Hence, he had an epiphany and decided to name the album "Eleven." He felt it was imperative that he put his heart and soul into this project.
If you're a fan of hard beats and lyrical bars, then this top notch street album is for you. "Eleven" is a captivating release that moves pass generic trap tales and takes the listener on a deeper and more introspective level. It's an ambitious and driven effort from a gentleman who has lived and survived the gritty streets. It features collaborations from fellow independent rappers Tre Creamer,Johnny Cinco, 035Damez, and Dill.
"Eleven" is a tour de force loaded with relentless beats and hard core lyrics. It captures the true essence of Hip Hop. There are catchy hooks, quality production and plenty of food for thought on the release. Cash Moody gets straight to the point, telling his story how he sees fit, and he does it unapologetically. His skillful wordplay and witty metaphors paint precise pictures.
Cash Moody is not afraid to be himself and he incorporates many of his life's experiences into his music. "Eleven" includes 10 explosive tracks and one skit. Each song stands out in its own right. Highlights include the bold, in your face track called "Gang" and the relentless street anthem called "Shooters Hanging Out The Window." Additionally, Cash Moody resurrects the spirit of 2pac on the song "Lil Kiesha," which is a motivational track and an ode to all the young ladies in the hood trying to survive.
Cash Moody has put his stamp on the independent rap game through his laid-back confidence and boastful attitude. It's only a matter of time before this young gunna's fearless, authentic sound makes an impact on a national level. In music, if everyone is going in one direction, sometimes it's wise to go in the opposite direction or attempt to create a whole new path. And that's exactly what Cash Moody is doing. His relentless work ethic, confident delivery and unique style are the main ingredients that set Cash Moody apart from other emcees.
Instagram: @CashMoody1
Listen to Cash Moody's 'Eleven' via My Mixtapez app https://mxtpz.me/a/158431